Our body is the vehicle that our soul uses to experience itself. Within us we have our own universe. Our cells are filled with happiness when we give them what they need, from food to physical exercise. Nowadays it is very difficult to nourish our body with all the vitamins and minerals that it needs daily, either due to lack of time, lack of resources, or lack of information. The good news is that there are very easy and delicious ways to nourish ourselves daily. Carrots are an excellent source of vitamins and minerals and are also very affordable.
I drink my carrot juice every morning. As a vegan, there is nothing more satisfying than knowing what I am nourishing my body with. Fresh vegetables are a source of well-being. Without preservatives, without artificial colouring. If possible, choose organic. If not, choose those that can be peeled – that way we can get rid of possible traces of pesticides. Vegetables juice is a great way to start the day. The only thing you need is a juicer or blender (you can trust Continental home appliances), love for your body and for all living creatures.
Why juicing? Because it is the easiest way to "eat" the necessary amount of vegetables that good nutrition needs. Also, the body absorbs all the nutrients from the vegetables like a sponge.
How to make carrot juice with a blender
If you don't have a juicer, you can use a blender. Peel five carrots, cut them into pieces, and put them in the blender with a little water (just enough for the blender to do its job). When the carrots have the consistency of puree, place them in a strainer and separate the juice from the pulp. Voilà!
You can use the pulp to make a salad. Add a little olive oil, apple cider vinegar and a pinch of salt. You can also add other vegetables (the more colorful the better!). It is healthy, fresh and delicious!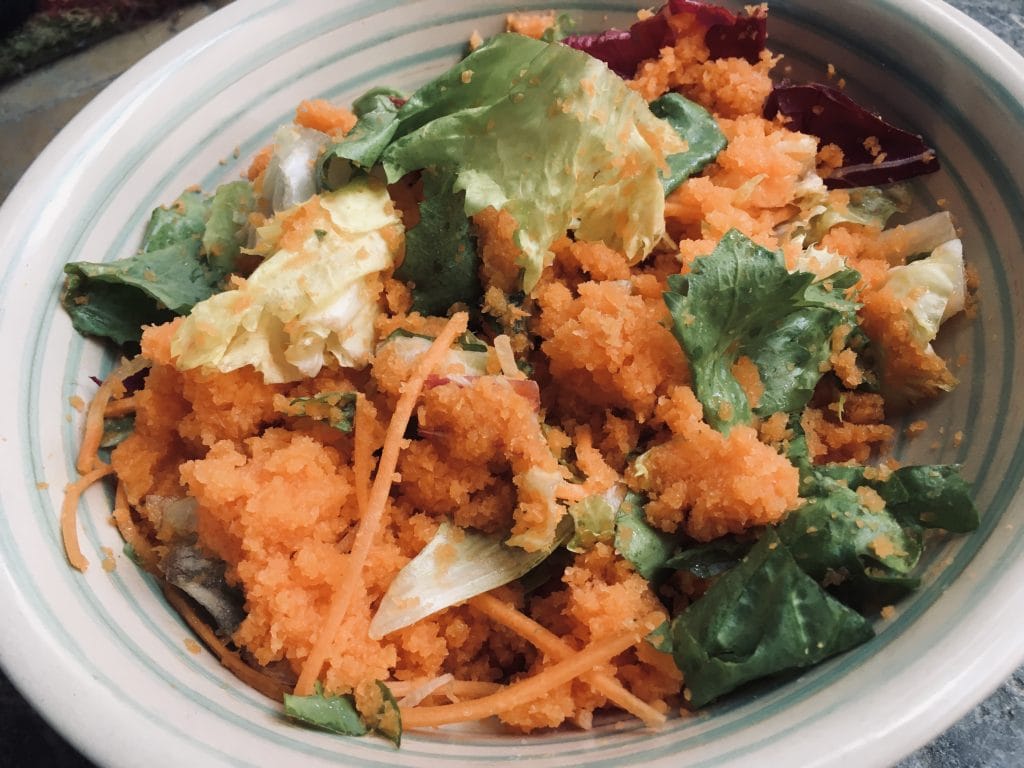 What is in a cup of carrot juice?
% Daily Value*
Total Fat 0.4 g
0%
Saturated fat 0.1 g
0%
Polyunsaturated fat 0.2 g
Monounsaturated fat 0 g
Cholesterol 0 mg
0%
Sodium 155.8 mg
6%
Potassium 689.1 mg
19%
Total Carbohydrate 22 g
7%
Dietary fiber 1.9 g
7%
Sugar 9 g
Protein 2.2 g
4%
| | | | |
| --- | --- | --- | --- |
| Vitamin A | 902% | Vitamin C | 33% |
| Calcium | 5% | Iron | 6% |
| Vitamin D | 0% | Vitamin B-6 | 25% |
| Cobalamin | 0% | Magnesium | 8% |
*Percent Daily Values are based on a 2,000 calorie diet. Source: Wikipedia
10 Health Benefits of Carrot Juice
A great thing about carrots – besides the vibrant color and taste, is the price. Carrots are really affordable and are available everywhere. While many think a plant-based diet is expensive and a vegan lifestyle is a luxury, nothing could be farther from the truth. The most important thing is to educate ourselves about nutrition, and in this way we discover how inexpensive it can be to nourish our body cruelty-free and in a healthy way.
---
Astrology Readings
Birth chart analysis, synastry, current transits and more. Visit my consultation page for more information.
---
"The carotene in one cup of carrot juice is probably the equivalent of nearly 20,000 IU of vitamin A"

Andrew W. Saul, PhD. "Doctor Yourself: Natural Healing that Works".
Carrots juice helps with…
Protecting eyesight and eye health
Providing natural antioxidants
Boosting your immune system
Helping digestive and acidity problems as it is alkaline
Reducing stress
Reducing inflammation
Preventing certain types of cancer
Slowing down the aging process
Reducing risk of coronary heart disease
Preventing damage in the nerve cells in the brain
And what about the salad?
Carrots contain soluble fiber (pectin). Soluble fibers can lower blood sugar levels by slowing down the digestion of sugar. They can also feed the friendly bacteria in the gut, promoting health. And the list goes on! If you want to know more about the health benefits of carrots, read this article.
The last thing I would like to add is that eating vegetables is not only healthy for the body but also for the spirit. Animals feel, just like we do. Remember, we're animals too. Farm animals are like our cats or dogs, only less fortunate. Open your heart to them. They also have one and they love being loved … just like us.
Do you love astrology?
Subscribe!
And receive for FREE New and Full Moon updates (ONLY for subscribers), new articles, videos, and more!
Discover your essential geometry
Align yourself with your potential
Understand your relationships
Reveal your innate talents
Find out your evolutionary path
Harmonize with current energies